I met Mimsey at one of the local open mic events. Being both a photographer and a performer in the local music scene puts me in the middle of a lot that is going on. Mimsey lives on the other side of the creek as I call it. The Hampton Roads harbor separates me from the more populated area where most of the music happens. On this particular night, she had come over to Hampton to perform at Sarah's Irish Pub, a place that had become the weekly social hub of the area musicians, or at least the older, more established ones. The younger, college crowd tends to have their own spots they frequent.
I was captured by Mimsey's unique style of music - a solo performance of covers and some of her originals, mostly done with a harsh, punkish spin, and with a thin sound from her single-coil Strat and no other accompaniment, making her vocals stand out on top. While most everyone is pretty reserved, being mostly older folk, Mimsey stood out with her high energy sound and a beaming smile to go with it. It was the beginning of a friendship as we bumped into one another at the different events in the area.
Fast forward a few years and I had grown accustomed to seeing some of Mimsey's cell phone selfies, often of her shadow as she's doing some unassuming task like walking her dog. The shadow play was always entertaining to me. But one image really grabbed me. It was a nude selfie turned grayscale and was so harsh yet so calming. It was one of several she had taken of herself. Mimsey had revealed that she was tackling some pretty heavy internal challenges. That one photo though, moved me to find out more about the woman behind the shadows. I decided to spend a day with her and present a pictorial expose of sorts.
It took me a while to approach Mimsey about what I wanted to do. I didn't know her that well and to inquire about taking photos of a woman who had just posted a nude selfie made me feel a little uneasy. But she was totally intrigued with what I had in mind and we made a date to sample some of what goes on during a day in her life.
I fully expected to shoot a series of dark and depressing shots as I probed her personal life, but was pleasantly surprised that it was almost impossible to break her away from her cheerful smile. She is always upbeat and energetic, both on stage and now, before the camera, inside her home. And don't let the black leather jacket fool you. She's got a tough outer edge that's tempered by such a friendly and always-smiling inner soul.

Mimsey still lives in the same aged, Cape Cod house house in Norfolk she grew up in. She has six children, all of whom have moved out on their own. She lives alone with the dog, Maya, and the cat, Tiny Baby. She shares her time between her primary home and a secondary one she recently discovered in New York City where she travels often to join friends up there for musical performances.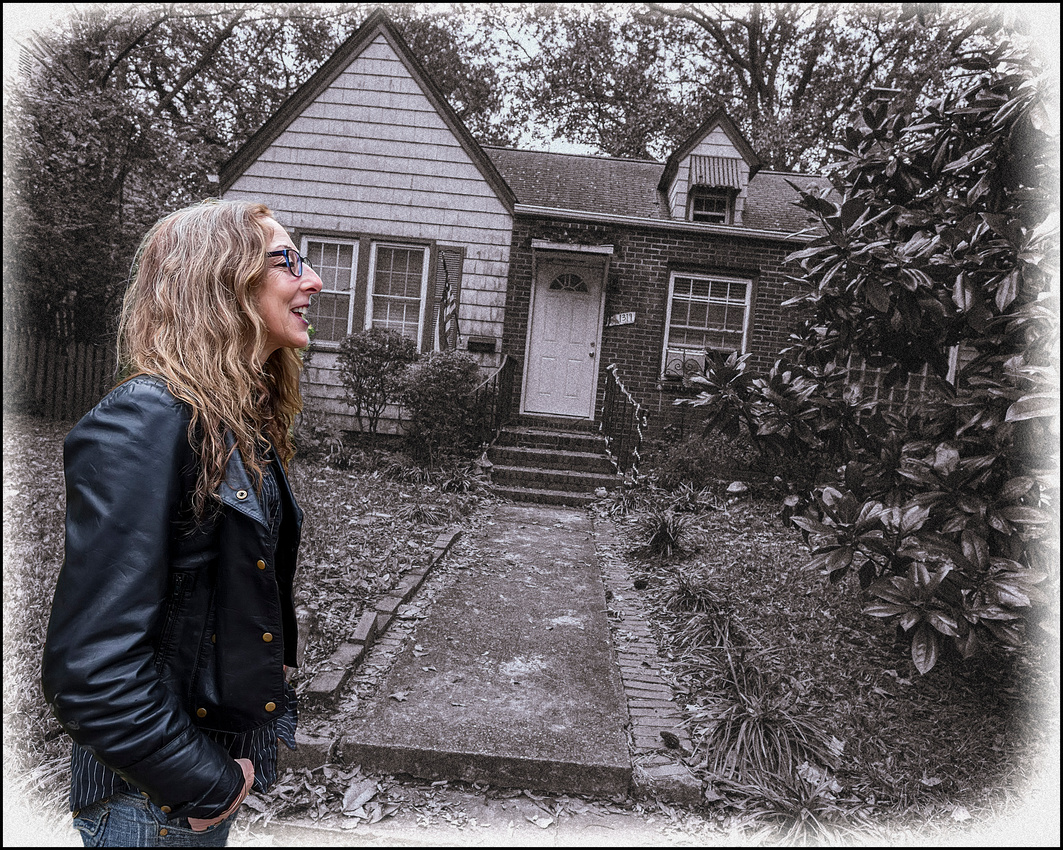 Talking with Mimsey is like talking with a big kid who is eager to taste all that life has to offer, minus the naivete. It's hard not to admire her appreciation of music and the people who make it up. For someone who has spent a lot of time on stages and in front of so many strangers, she was a little shy of the camera.
Mimsey's older sister, Amy, is an artist and painted a portrait of their older sister, Ellen, as part of an art assignment. Although all of the family was involved in the arts in one way or another, Ellen went to Oberlin Music Conservatory and received a masters in voice performance from Yale University. She sings classic, opera style and is the only one that pursued music professionally. Mimsey became a physical therapist, one of her other passions.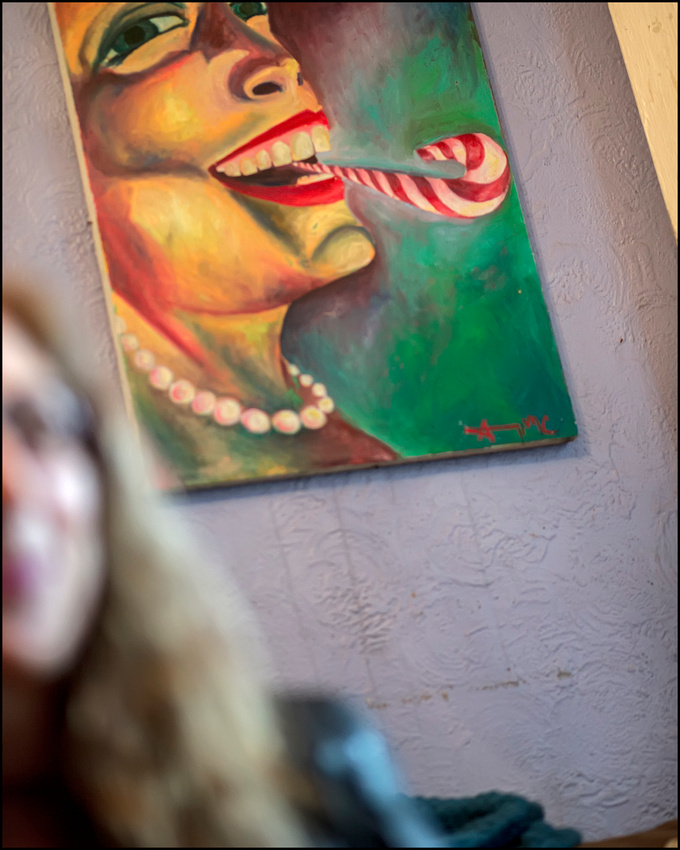 On one of the walls in her house are displayed photos of her father, Dr. John E. MacCormack. A man of many talents and accolades. In Mimsey's own words, "Those are pictures of my dad, Dr. John E. MacCormack, professor emeritus at ODU He was from NY state, Purple Heart Recipient WWII, Eastman School of Music undergrad, Columbia University PhD. He was born 1919 (15 years older than my mom) I'm the youngest daughter. He was french, Italian, Irish. He was raised in a socioeconomic low household with many siblings. He graduated at age 15 and played "fiddle" in NYC and then attended until the war. He used his GI Bill to complete his education. He was told to switch to viola when he was at Eastman. I spent my early childhood, going to the symphony, opera and University rehearsals with him. I was enamored with the music. He started the ODU symphony, conducted it. Was principal violist at Norfolk Symphony and Virginia opera. He also played in the Feldman Quarter and other musical groups. We had many musicians in my house in my early childhood.
He passed away in 2000 after a brief struggle with pulmonary fibrosis. He was very charismatic.. and passionate about music- practiced for hours a day. I loved watching him shine his shoes before a performance - I was like a puppy. The music really filled my soul
"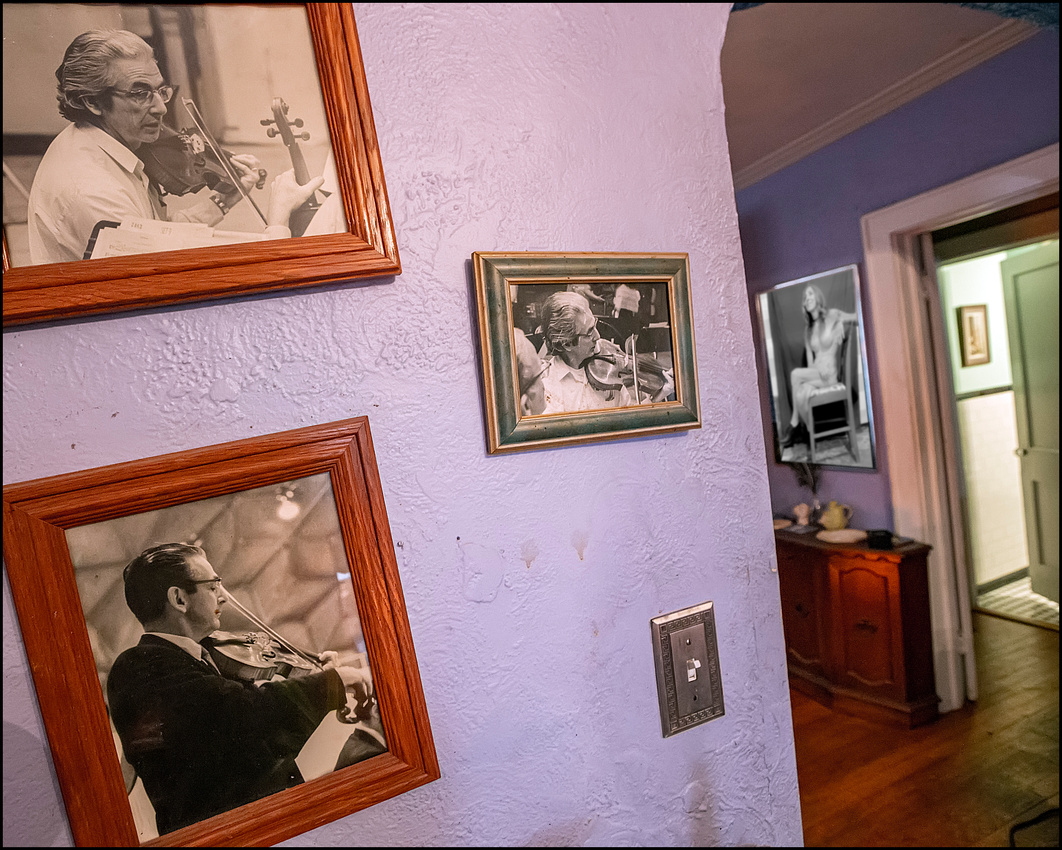 She still sleeps in her childhood bedroom where little has changed over the years.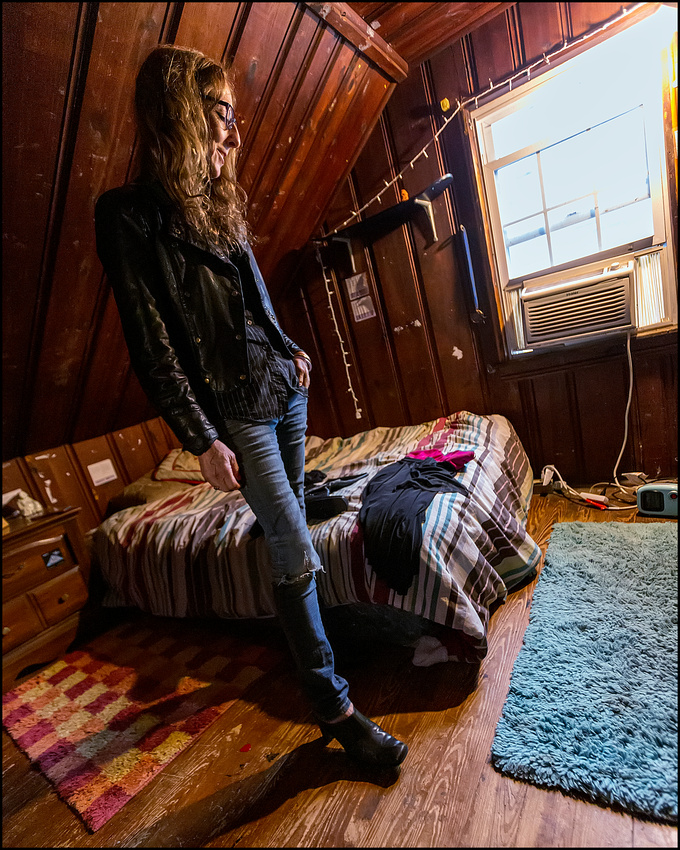 A busy day with Mimsey starts with getting ready, usually in the kitchen while coffee is brewing.
In a little corner of her kitchen sits this family portrait. To meet her, you'd have no idea she raised six children, mostly by herself.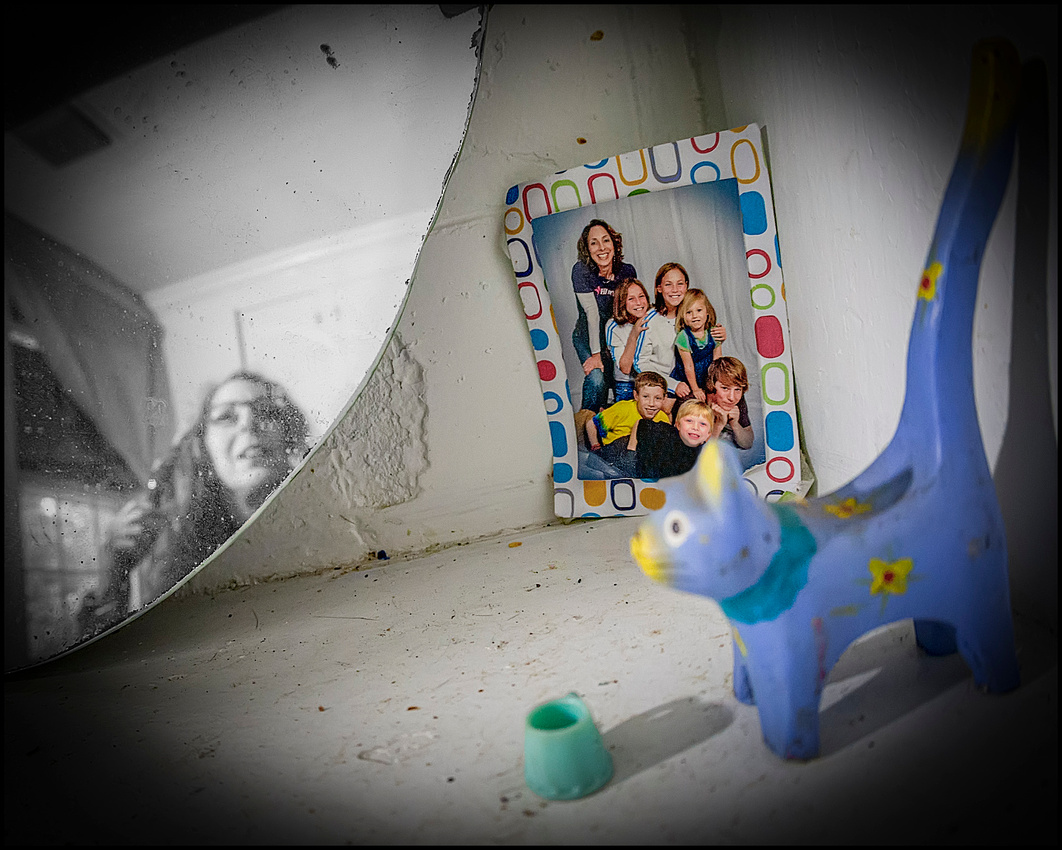 In addition to playing music in the local communities of Hampton Roads and New York City, she has a small clientele of those who take advantage of her massage skills.
Mimsey often performs during the day with gigs at area assisted living and senior residential facilities. She is seen here, teamed up with fellow musician, Bernie Mayer, singing Christmas carols to residents.
Back in her room, Mimsey tells me of the darker side of her past - one filled with physical and emotional abuse from her former husband as well as some demons within her family, and finally her battle with breast cancer.
As she tells of her roller coaster past, she picks out an outfit for her evening outing.
Mimsey usually loosens up her musical creativity by spending a little time working with her drums and her vocals.
Only when probed about her abusive marriage did she trade in her beaming smile for a more solemn look. But it didn't last for long.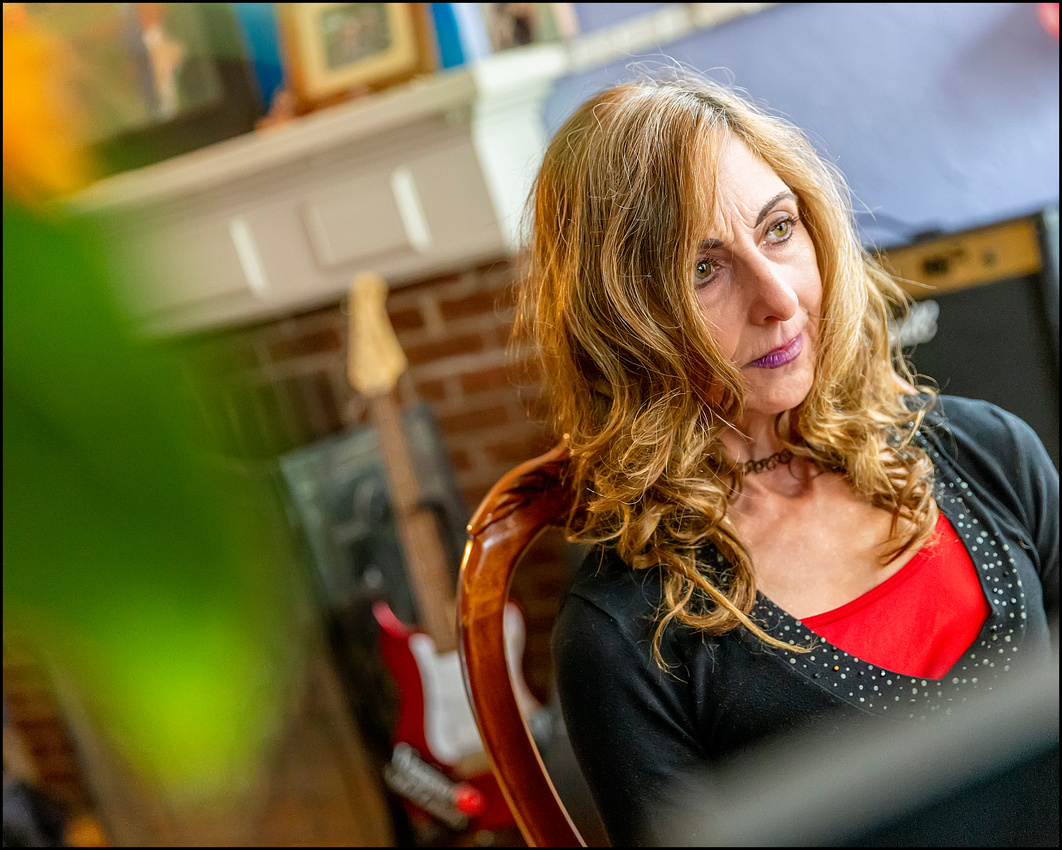 This dark and narrow stairway which leads to Mimsey's area of creativity and relaxation is brightened by the colorful steps that lead the way...
...to a much brighter and more magical place. Her upstairs studio.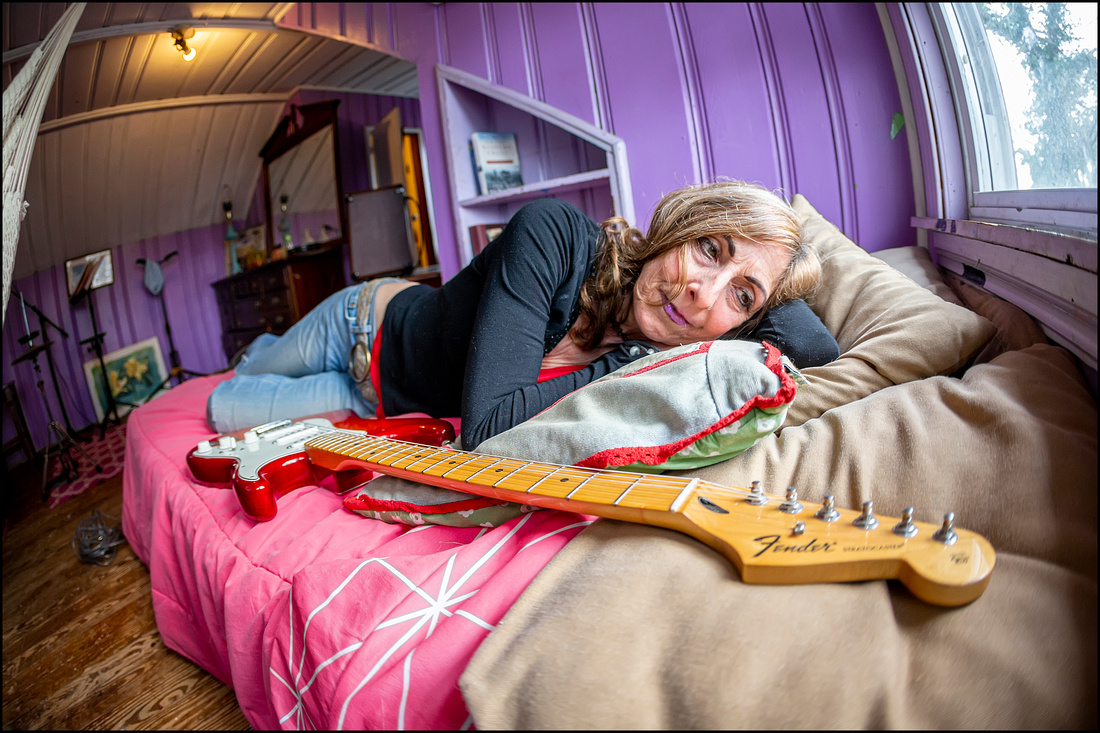 From the colorful settings to the presence of music everywhere in the house, it is quite obvious that Mimsey has decided to let the positive in her life outshine any negative of the past.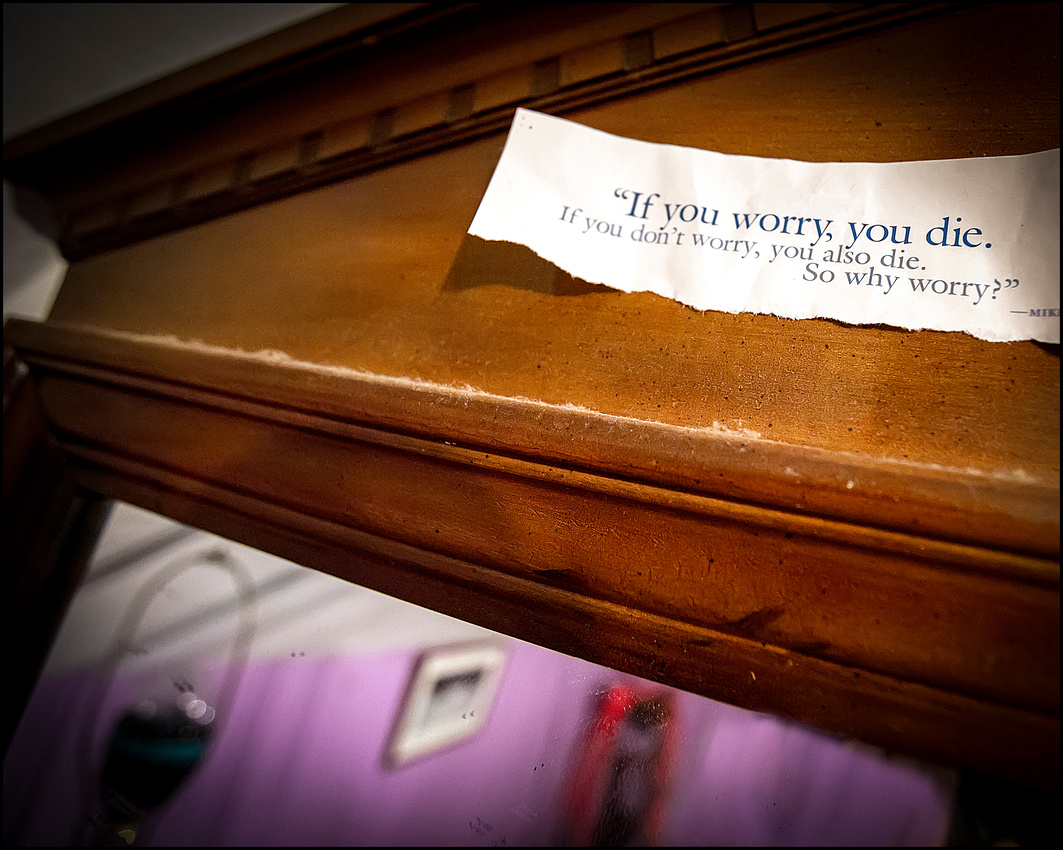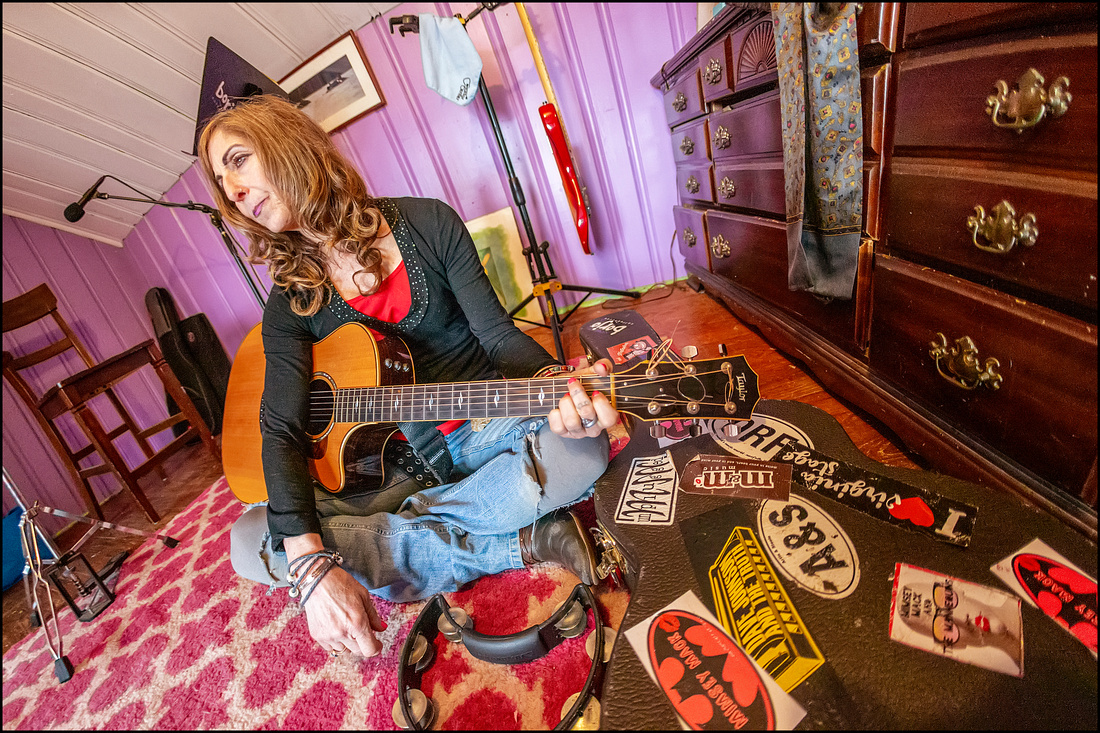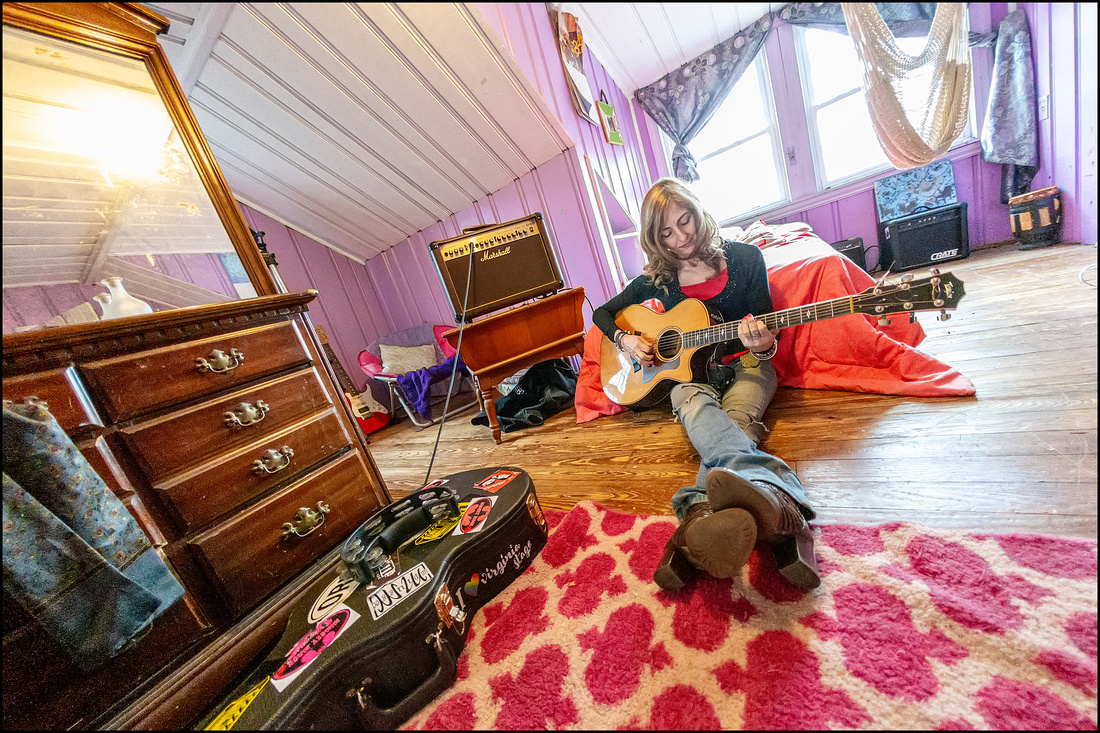 On this particular night, we rode out to one of the local open mic shows where local talent hangs out and new people are encouraged to take the stage. A setting where we first met, several years prior.
Check out Mimsey's Redemption, featuring one of her original songs. You can follow her on Facebook as well as on Instagram.