New York City is a fabulous place to go with a camera. There is no shortage of photo opportunities, whether it be the many fabulous buildings towering above your head or the never-ending supply of people who live, work, and visit there. On a recent visit there, I decided to make a project of sorts by carrying only two lenses; a 15mm fisheye, one that Canon stopped selling several years ago, and a 16-35mm super wide zoom. Buying the fisheye was one of my best purchases ever. It allows me to get totally immersed in a scene and it gives an almost-human field of view. The super wide also has an all-encompassing view but keeps distant detail from disappearing completely as in the case of landscapes.
The fun part about using such wide lenses is that I can include people in the frame without them realizing they are part of the scene. When it looks like I'm shooting over their shoulder, I'm in fact making them the primary subject, bringing the entire scene in with them.
Tall buildings are especially fun to shoot with extremely wide lenses. Because it exaggerates the perspective as compared to other lenses, I can capture foreground detail and immense backgrounds. With a little tilt in the vertical, I can reach the tops of nearby buildings yet capture the street scene below.
In order to use these lenses properly, you really do need to get close to nearby objects. And although they capture a rectilinear scene in a curved manner, I can choose whether or not to correct for the geometry, straightening heavily curved lines, or leaving that amazing, surreal perspective intact. Landscapes with these lenses are breathtaking, especially if there are some features in the sky. And the depth of focus is huge, allowing me to have an infinity just barely an arm's length away.
As in any large city, the possibilities for striking crowd shots in New York City are nearly infinite. There is a colorful mixture of local business people, those who live here or who commute, those who call the streets their home, and those who come from afar just to visit this magnificent place. Although I was clearly a visitor, carrying around big camera gear, at times I felt like a foreigner to a distant country as the languages spoken around me were only occasionally recognizable.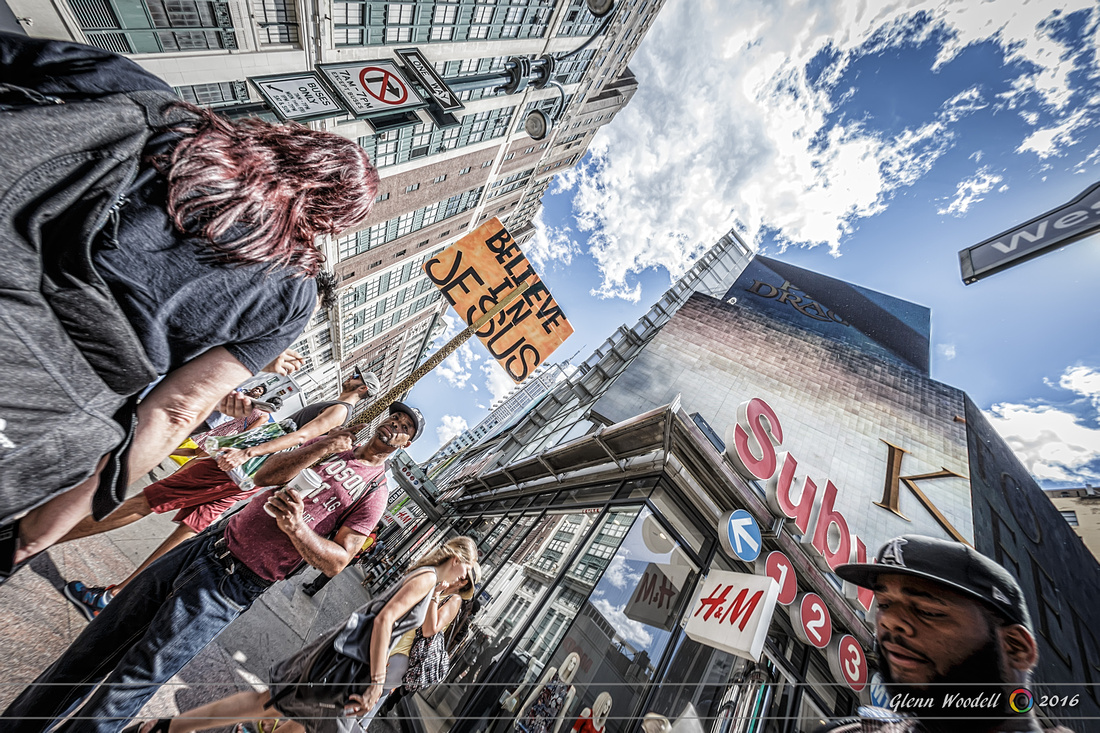 With such wide lenses, it's easy to shoot from the hip without even focusing. Especially with the fisheye lens, since the geometry is so distorted, unless there is a horizon in the scene, it's just not necessary to worry about whether or not your shot is level. I enjoy the fact that the camera orientation is determined by the scene composition because it leaves a lot of room for unique shots of otherwise familiar scenes.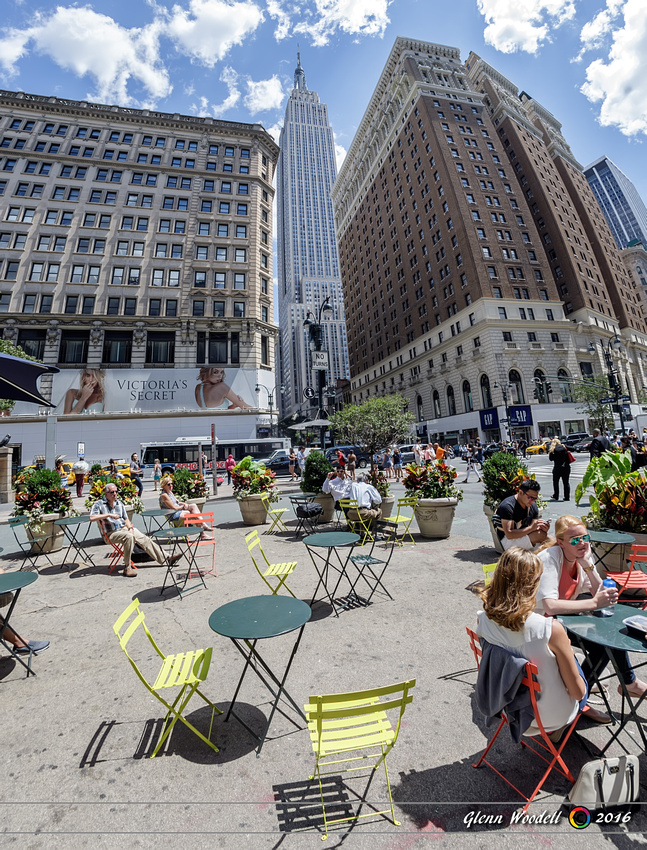 Above is a perfect example of including people in the foreground without concern that they will politely step out of your picture, thereby ruining your scene. Wide lenses give you the freedom to shoot totally candid pictures, often before the scene elements change or disappear.
Correcting for the geometry causes the severely curved lines to straighten. The amazing perspective makes it appear as though buildings are leaning toward the center. As this image demonstrates, New York City is one of lots of color.
When walking among people, I love the ability to catch them totally unaffected by the presence of my camera. I was nearly stepping on the heels of these two businessmen while taking this shot. But by shooting so closely to them, it allowed me to capture their details and plant them in their surroundings much more effectively. Almost any other lens would have lost the enormity of their scene. It helped turn what would have just been a snapshot into a photograph.
New York City has more open areas for people to just relax and get away from the masses than I had seen in previous visits. Like other large cities, there is a confluence of so many different people, each with very different reasons for being where they are. In the evenings, the cityscape is quite different. The many business people and visitors go home while others remain indefinitely, trapped in their fight for existence.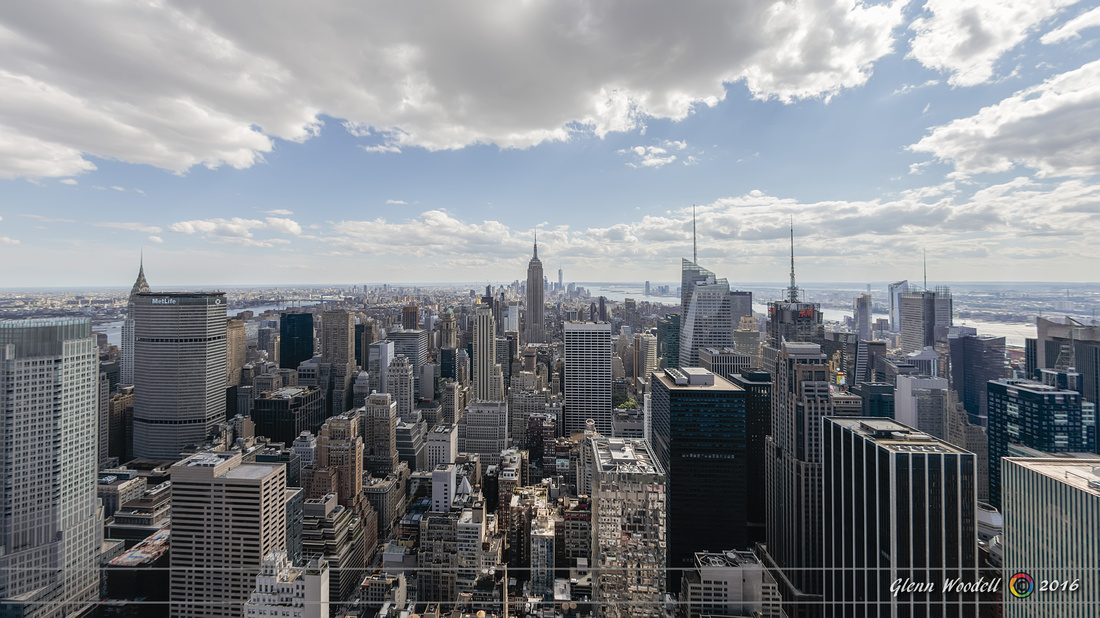 A visit to any big city is surely worthy of a trip to the top for a very different view. Rather than fight the long lines at the Empire State Building (center above), I ended up at the top of the Rockefeller Center, almost as high, where I got a good view of lower Manhattan to the South, New Jersey to the West, Brooklyn to the East, and Central Park and Harlem to the North.
In New York City, there is no shortage of visitors from all over the world. The most common foreign accents to be heard however are from India and Asia. Here, at the top of the Western world, the noise of the busy city is replaced by the wind and silence of people taking in the breathtaking view. There was, at least for a few minutes, a transformation from the hectic and almost survivalistic, shoulder-to-shoulder nature of the ground below to that of a more relaxed and almost philosophical one above.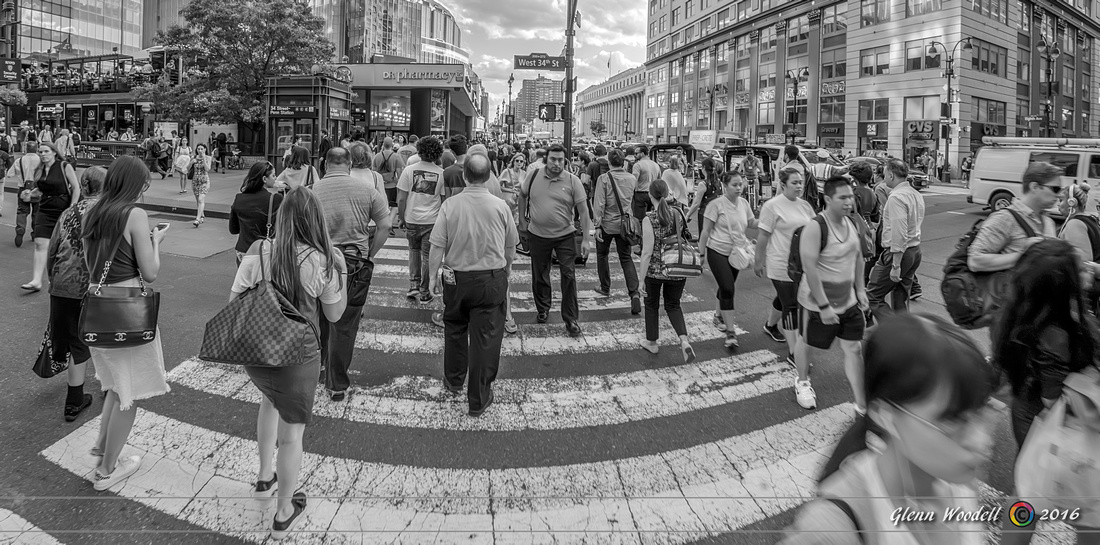 I've never driven in a big city like this but surely there's a science to it, especially during the day. After a while you become almost immune to the nearly constant horn honking as drivers, mostly taxis and delivery trucks, try to exert their meager right of way over the constant flow of people around them and the almost nonexistent flow of traffic in front of them. And the occasional wail of emergency sirens makes you wonder if help ever arrives in time, with all the people and cars each pushing along on their own important journeys.
Despite the busy and hurried nature of the business, banking, and shopping districts, Chinatown was one of normalcy by comparison. Here, mostly older people collected together to enjoy games or play music of their people. Those who weren't participating were watching with just as much concentration.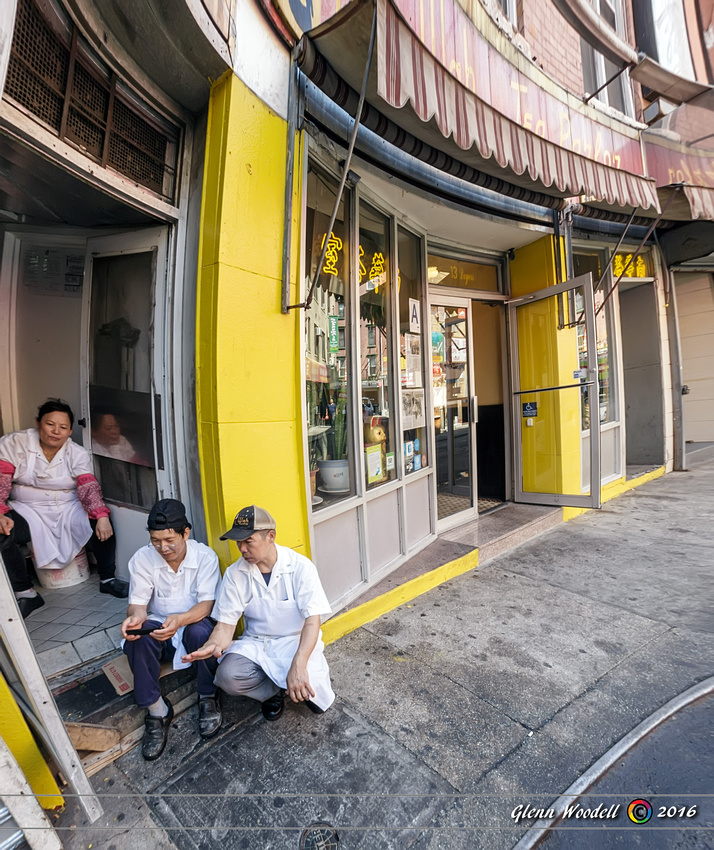 Along this narrow back street, many cooks and shop employees were seen relaxing, away from the customers, and catching up on some personal time or the news of the day, usually with a cigarette in hand…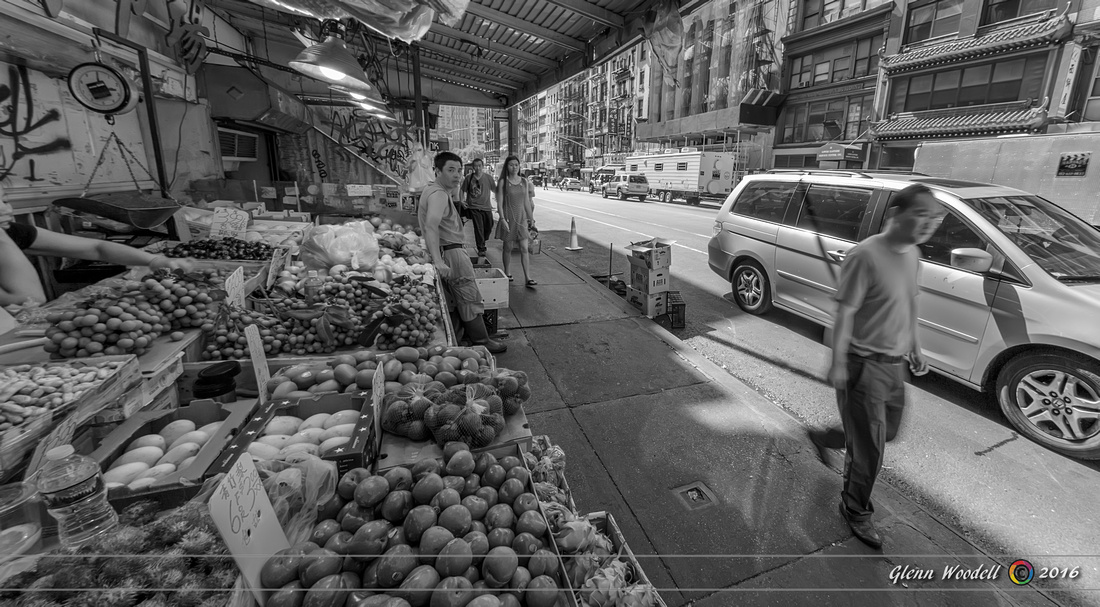 …while back on the front, someone was always at station, trying to get a piece of the American dollar, luring shoppers and hungry patrons into their stores and restaurants.